Heirs of All Eternity: New Discoveries in Tudor Portraiture
by Dr Christina J Faraday
Dr Christina J Faraday
In the opening speech of Love's Labour's Lost (c.1597), Ferdinand King of Navarre recounts his reasons for founding an academy with three 'fellow-scholars':
Let fame, that all hunt after in their lives,
Live register'd upon our brazen tombs
And then grace us in the disgrace of death;
When, spite of cormorant devouring Time,
The endeavor of this present breath may buy
That honour which shall bate his scythe's keen edge
And make us heirs of all eternity.
(Loves' Labour's Lost, I.i.1-7)
Just like many of Shakespeare's middling and elite audience members, Ferdinand expects his tomb to trumpet the reputation that he tries – and fails – to win through scholarship. But tombs were by no means the only objects capable of preserving reputation in Tudor England. Portraits were one of the most popular means of recording the appearance, status and achievements of individuals, situating them within familial, social, professional and patriotic networks. Building on the pioneering work of Sir Roy Strong and others, research in the last fifteen years has seen huge developments in our understanding and appreciation of Tudor art. Improvements in technical analysis and fresh insights from a widened field of art history promise to enhance both our factual knowledge: who painted what, for whom, when and how; and our contextual knowledge – how art was used and valued in Tudor and Stuart England.
One issue in particular has dogged the genre of portraiture: the idea that it was the only acceptable art form in the turbulent post-Reformation decades. In the 1980s scholars argued that repeated waves of iconoclasm had produced an 'iconophobic' population, afraid of having any images except the most uncontroversial portraits and heraldic achievements.[1] Revisionist research by Tara Hamling, Richard Williams and others has shown that this was not the case, however, and religious subjects could be acceptable even the homes of the 'godly'.[2] The richness of the visual world revealed by research into decorative and vernacular art also reframes portraits. We are no longer compelled to see them as an artistic consolation prize, popular because other subjects were outlawed, but can instead appreciate them as a positive selection from a huge range of artistic options. The fact that a Protestant MP and Justice of the Peace, Richard Wingfield, chose a portrait to express his status and interests, speaks volumes about the genre's ability to represent sitters as they wanted to be seen by their peers and by posterity [Fig. 1].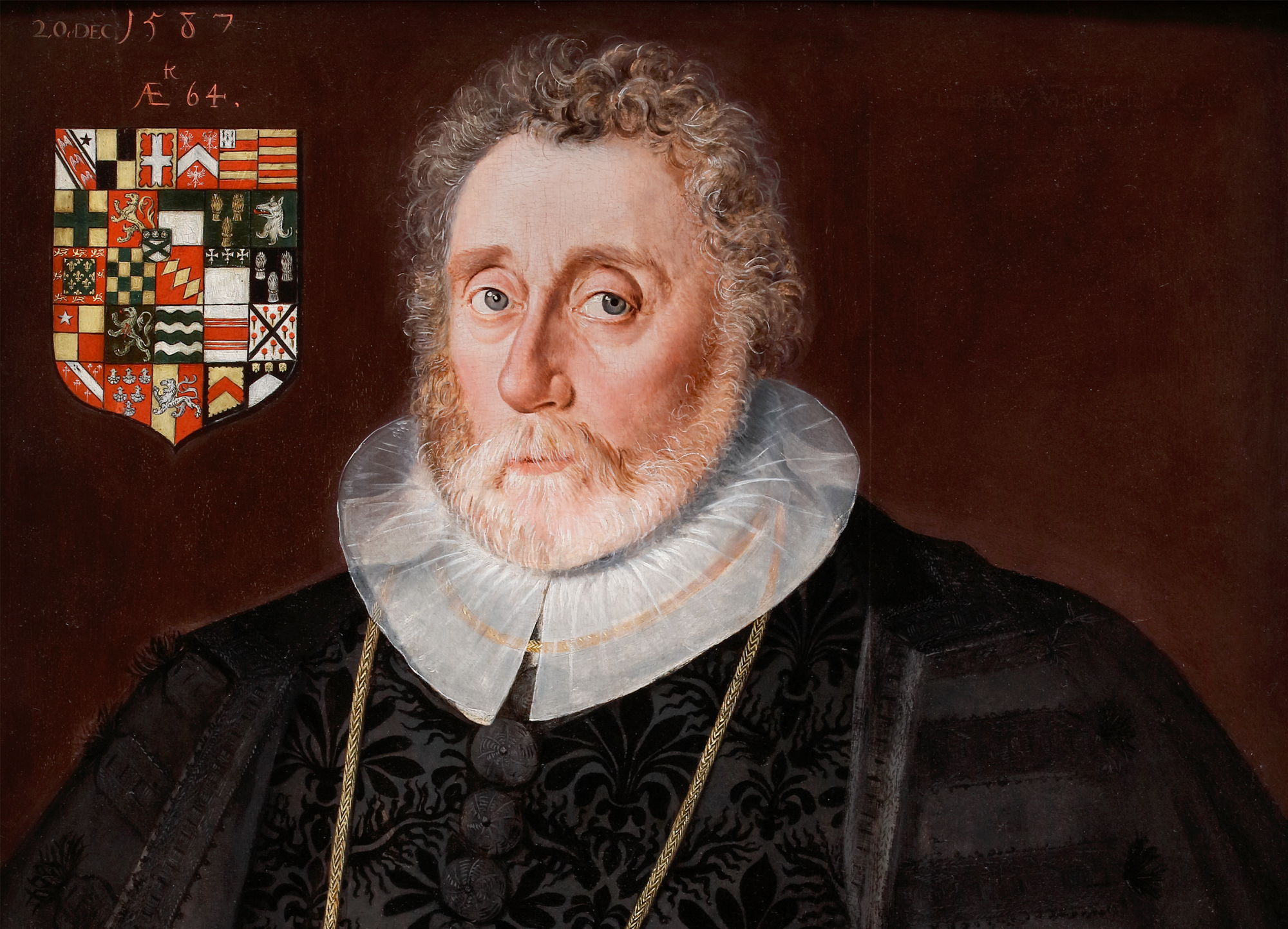 Portraits were a valued means of recording identity and intention. Capturing one's appearance at a particular moment in life was one motivation for commissioning a portrait, as the musician Thomas Whythorne noted in his remarkable autobiography: while 'young folks' had 'a pleasure to behold their beauties and favours', older people 'did cause their pictures or counterfeits to be painted from time to time to see how time doth alter them'.[3] As Tarnya Cooper has pointed out, inscriptions recording the date and the sitter's age indicate that portraits were valued for their ability to record appearances at a point in time, whether for the sitter's personal contemplation or for the benefit of descendants or members of a professional institution.[4]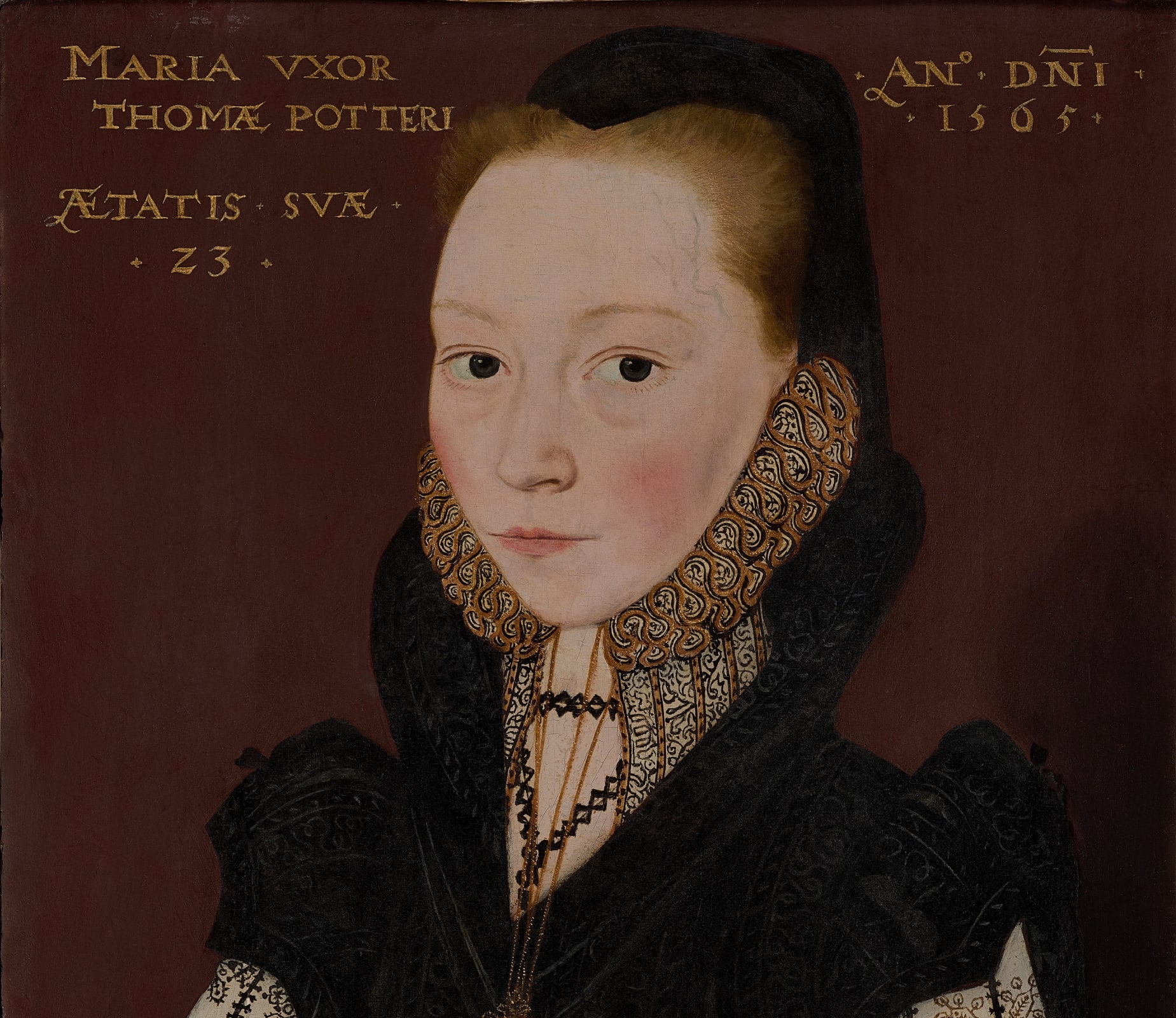 We see this in the portrait of Mary Potter, nee Tichborne, whose inscription records her as 'wife of Thomas Potter' aged 23 in 1561 [Fig. 2]. In a period when premature death was common, portraits were a valued means of recording the appearance of friends and family members, particularly of wives who faced especial danger in childbirth. Devices such as skulls, clocks and snuffed candles made memento mori themes explicit [Fig. 3] but portraits themselves could function as vanitas objects more generally, reminding viewers of the fleetingness of youth and exhorting them to look to the fate of their soul in the hereafter. Even the delicate rendering of veins and use of semi-opaque paint to suggest the skull under the skin (both characteristic of the artist known as 'the Master of the Countess of Warwick', as Jessica David and Edward Town note in their catalogue essay) heightened the tension between the living sitter and the mortal subject [Fig. 2].[5]
Portraiture's symbolic potential also secured its popularity with patrons, whose education provided them with a rich catalogue of classical and other references to utilise when expressing their status and philosophy. In William Arundell's portrait, an impresa, a combination of word and image relating to the owner's identity or circumstances, reveals the young man's ambitious character [Fig. 4].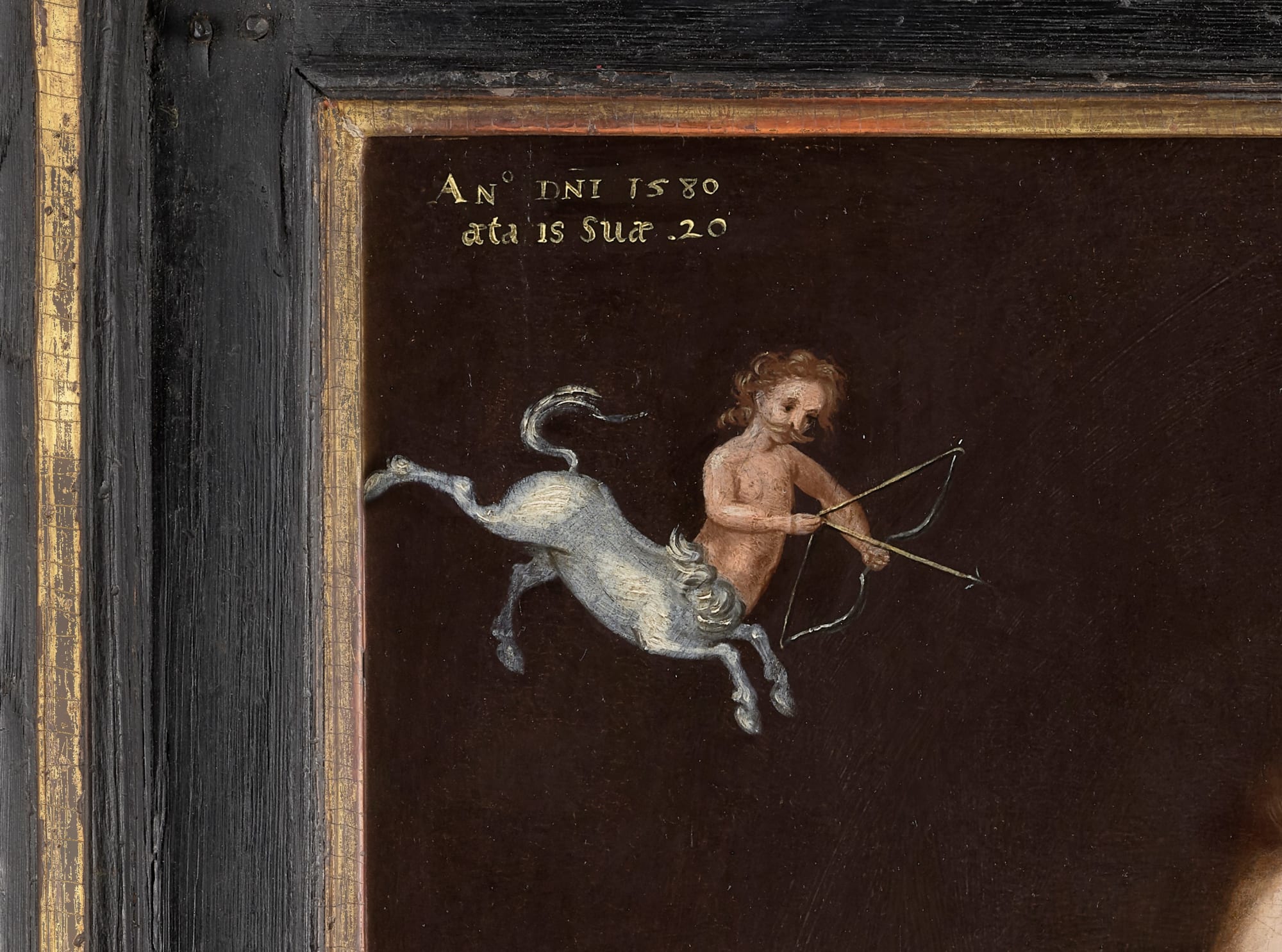 Sagittarius the archer, who, as Lawrence Hendra notes, 'never missed his target', is shown taking aim: probably a reference to Arundell's birth sign, in a period when astrology enjoyed widespread popularity. The motto 'Non spirat Qui non aspirat' suggests that ambition is as natural to Arundell as breathing.[6] Choice of artist was another means of conveying ambition. As new research in this exhibition reveals, Robert Dudley's employment of Steven van der Meulen for his c.1562 portrait came hot on the heels of the artist's return from painting King Erik XIV of Sweden [Fig. 5]. This would have allowed the would-be consort to compete directly with the Queen's latest suitor: a powerful and ambitious statement from Elizabeth's favourite English courtier.[7]
Portraits could be used to express patriotic support for the monarch, as the three large-scale royal portraits in this exhibition demonstrate. The widespread appetite for portraits of the monarch drove the desire for reliable face patterns, and may also explain the updating and overpainting of portraits - such as the early portrait of Elizabeth I shown here - when better images became available [Fig. 6].[8] Portrait miniatures on the other hand enabled the expression of love and loyalty at a more intimate level. The French and English miniatures displayed in this exhibition indicate the exciting discoveries still to be made, particularly in the realm of Anglo-French artistic relations [Fig. 7]. The miniature's reputation for directness and quickness formed a dramatic contrast with larger-scale works, enabling it to capture something of the aura of a loved one's presence.[9]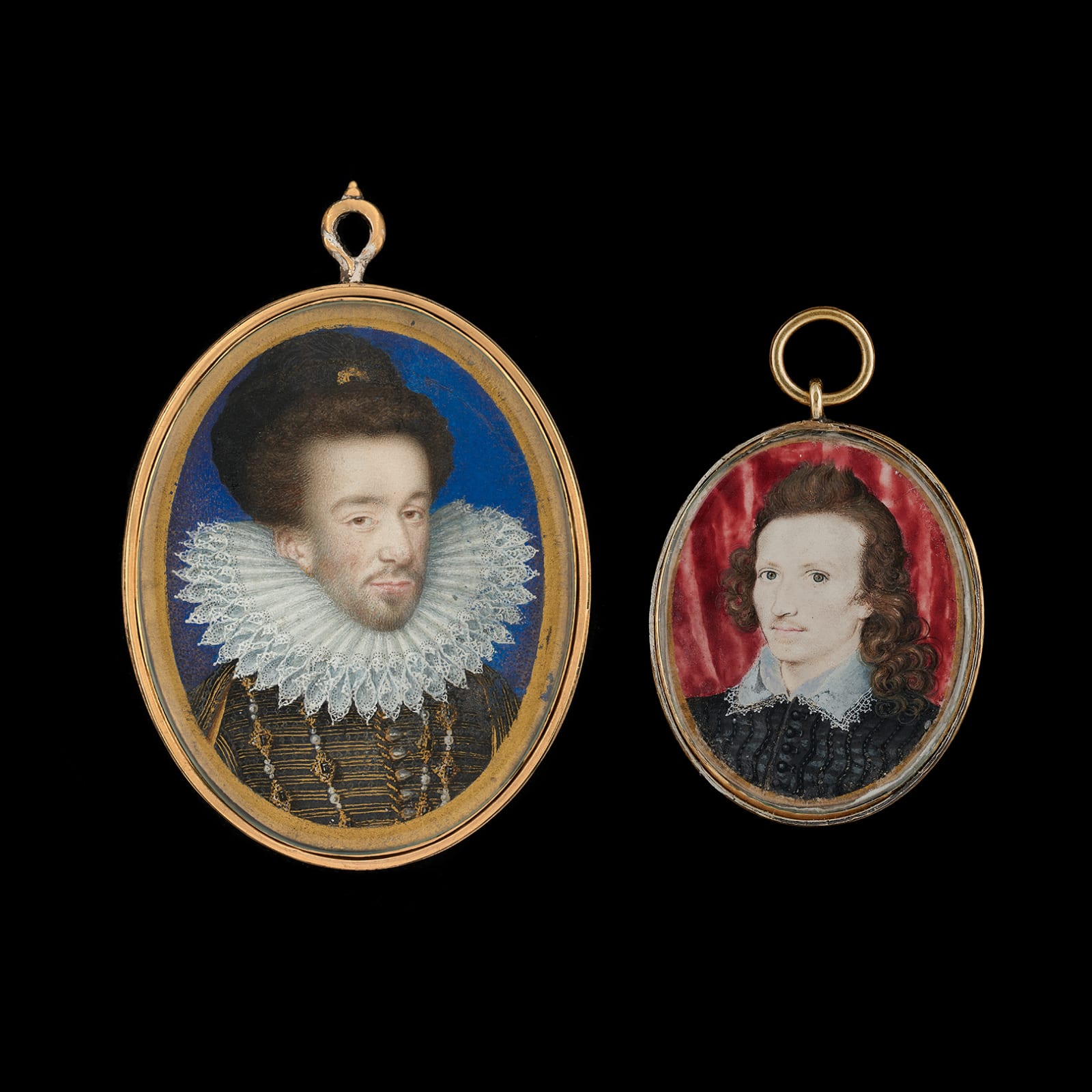 In contrast to the meagre scholarship of King Ferdinand's academy in Love's Labour's Lost, the ongoing labours of a new generation of Tudor art historians are already bearing fruit. As the works and scholarship in this exhibition demonstrate, huge leaps have been made in our understanding of this period's art, and there is still much to discover. As technical, biographical and contextual threads come together in ongoing research, we can expect to unearth even more information about the sitters and artists represented by these artworks, as well as the fascinating times in which they lived.
Dr Christina J Faraday is a Research Fellow in history of art at Gonville and Caius College, Cambridge, where she is pursuing research into Tudor art, literature and music. She is also an AHRC/BBC New Generation Thinker and a regular contributor to Apollo Magazine.
[1] Patrick Collinson, From Iconoclasm to Iconophobia: The Cultural Impact of the Second English Reformation (Reading: University of Reading, 1986), 8, 23; Collinson, The Birthpangs of Protestant England: Religious and Cultural Change in the Sixteenth and Seventeenth Centuries (Basingstoke: Palgrave Macmillan, 1988), 119.
[2] Tara Hamling, Decorating the Godly Household: Religious Art in Post-Reformation Britain (New Haven and London: Yale University Press, 2010); Tara Hamling and Richard Williams (eds.), Art Re-Formed: Reassessing the Impact of the Reformation on the Visual Arts (Newcastle: Cambridge Scholars, 2007).
[3] Thomas Whythorne, The Autobiography of Thomas Whythorne, ed. James M Osborn (Oxford: Clarendon Press, 1961), 134.
[4] Tarnya Cooper, Citizen Portrait: Portrait Painting and the Urban Elite of Tudor and Jacobean England and Wales (New Haven, Conn. and London: Yale University Press, 2012), 33.
[5] Jessica David and Edward Town, 'The Elizabethan and Jacobean Scene' Revisited: Attribution, Archives and Analysis in the Digital Age' in Lawrence Hendra and Emma Rutherford, eds, Love's Labour's Found: Elizabethan and Jacobean Portraiture (Philip Mould and Company exh. cat., 2021),11-12.
[6] Ibid, cat. 6.
[7] Edward Town and Lawrence Hendra, 'Finding Steven Van Der Meulen' in ibid, 27-31.
[8] Ibid, cat. 1.
[9] Christina Faraday, 'Lively Limning: Presence in Portrait Miniatures and John White's Images of the New World,' British Art Studies, 17, https://doi.org/10.17658/issn.2058-5462/issue-17/cfaraday.