Chasing the Chases
The process of identification of one of John Smart's 'Anglo-Indian' miniatures | By Valeria Vallucci
Chasing the Chases:
The process of identification of one of John Smart's
'Anglo-Indian' miniatures
The chase started with a finely dressed lady, a distinctive inscription, and a pair of gold initials on the reverse of an elegant miniature in a colonial frame. The miniature is initialled 'JS' by the artist John Smart and is dated 1788. Beneath the date is the letter 'I' indicating it was painted whilst Smart was working in India – more specifically, Madras (now called Chennai) where he settled in 1785.
Due to the work's diminutive size, some subtleties could easily be overlooked. On closer inspection, the elegant lady appeared to have 'patchy' red cheeks, gentle traces of perspiration on her nose, and was wearing a floaty white and pink summer outfit exposing a slightly rosy upper chest.
The woman, whose initials AC are found on the reverse of the miniature, looked rather glamorous and, above all, settled and content. She was clearly a member of a well-to-do British family in Madras and most likely married.
Photographic archives are a good starting point for any art historical research project, so we decided to visit the Witt Library, which holds a vast collection of photographs and cuttings of paintings and drawings arranged alphabetically by artist and subject. We looked in the boxes for John Smart and to our amazement found a record of our miniature taken from a 1935 Sotheby's auction catalogue, in which the lady's name was given as 'Lady Colville'. In June 1935 the miniature was also advertised for sale on Country Life magazine, again as a portrait of Lady Colville: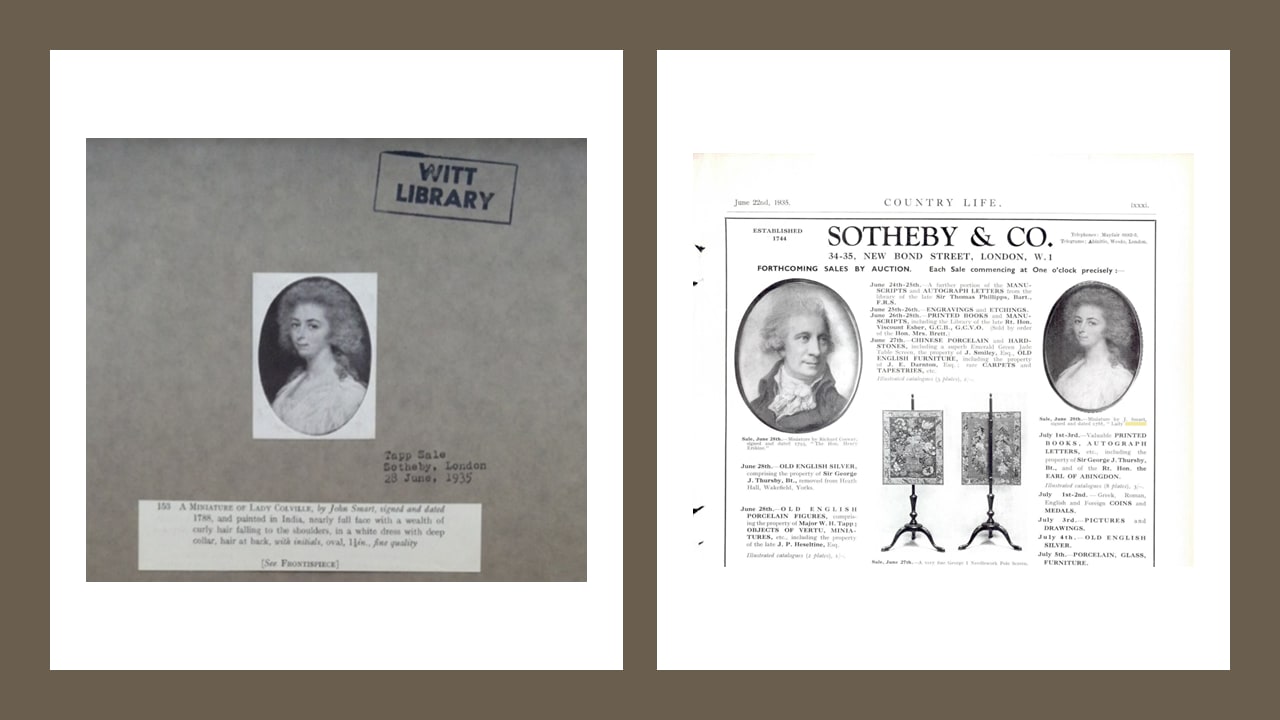 There was a problem, however. We found no record of anyone by the name of 'A. Colville' living in India in 1788.
When the miniature resurfaced in 2021, it was not described as 'Lady Colville' but as a likeness of Sarah Anne Fane (née Child), Countess of Westmorland (1763-1793). No evidence was presented to support this second attempt at identification, which in any case failed to match either initials or marital status.
The only way to discover the true identity of 'Mrs AC' was to visit the Asian & African Studies Reading Room at the British Library. Here, we could check Indian Army and Civil Service lists and find details of the British residents of Madras at the end of the 18th century.
We began our search for the husband and focused on British civilians or officers whose surnames started with 'C'.
Vestiges of Old Madras
by H.D. Love provided some perspective and allowed us to compile a list of more than twenty surnames beginning with the letter 'C'. We checked this list against almanacs and the huge number of certificates of marriage or baptisms issued in Madras. Thankfully, only a handful of British men seemed eligible to be 'Mr C'. Through the website
FindMyPast
we cross-checked these names with wives' names and dates of birth. Lastly, we examined Daphne Foskett's list of Smart's known sitters: a pair of miniatures entitled 'Thomas Chase signed and dated 1787 I' and 'Mrs Chase' drew our attention.
[1]
Back to
Vestiges of Old Madras
, we found that Thomas Chase 'married Miss Ann Rand in 1787'.
[2]
Mrs Ann Chase suddenly emerged as a possible candidate for being Smart's sitter.
The next step was to visit the Heinz Archive at the National Portrait Gallery – a photographic archive where it is possible to search for images of portraits by the sitter's surname. We tried a few names until we reached the 'Chase' folder, where we finally had our eureka moment.
[3]
We found a photograph of two miniatures described as 'Thomas and Sallena Chase possibly by Samuel Andrews, after John Smart, indistinctly signed, circa 1795', which were sold at Sotheby's in 1989.
[4]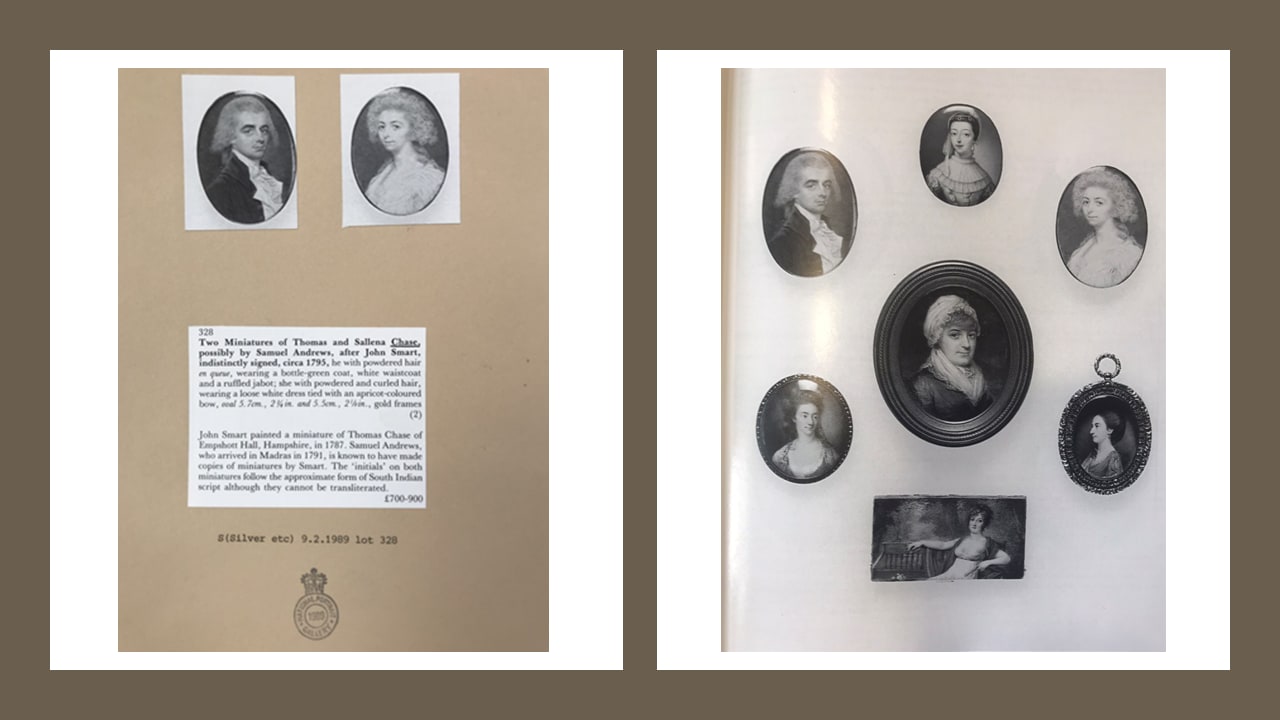 The portrait of 'Sallena Chase' looked exactly like the portrait of 'AC', and it was now clear that 'C' unquestionably stood for Chase.
We also found that these same copies were previously sold at Christie's in 1970 along with the rest of the Chase family's collection of miniatures: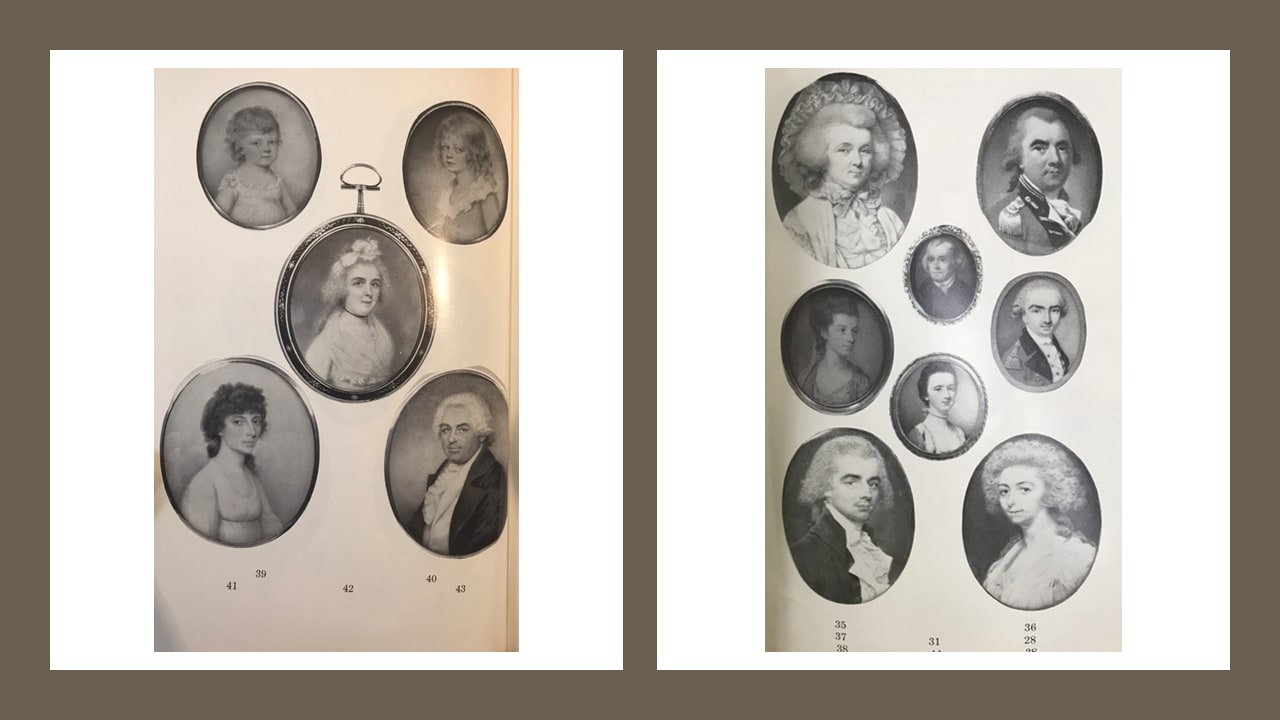 In the Christie's catalogue the lot was described as 'Miss Sallena Chase, and her brother Thomas Chase, who married Ann Rand. These miniatures are by John Smart Junior and are signed in Tamil'.
[5]
The portrait of 'Sallena Chase' was a copy of an original miniature by John Smart – our miniature. But for some reason, the name of the lady was thought to be
Sallena
. Why? The 1989 Sotheby's catalogue stated that initials on the copy "follow the approximate form of South Indian script although they cannot be transliterated." There had evidently been some confusion in the process of cataloguing the copy and reading its initials. Thankfully, the initials on the original miniature were easier to interpret. Additionally, none of Thomas's sisters were called
Sallena
, or Selena, or Selene.
[6]
Therefore, we could only assume our sitter was indeed the wife of Thomas Chase, Mrs Ann Chase (née Rand).
It also became clear that the miniature of Ann Chase by John Smart painted in 1788 was conceived as part of a pair. The two portraits were separated, probably in the second half of the 19th century, and unfortunately the whereabouts of Smart's likeness of Thomas Chase is still unknown. The miniatures were commissioned soon after the couple were married in Madras on 28th September 1787,
[7]
which explains why Thomas's miniature is dated 1787 and Ann's is dated 1788.
Analysed within the context of the Chase collection of miniatures, Smart's pair were significant tokens of affection for a large, wealthy family that lived between Madras, Calcutta, and London.
[8]
The Chase siblings commissioned many precious miniatures over the years, either to travel with or to send back home to their parents, who retired to a townhouse in Kensington Square. Some of these were painted by miniaturists in India – artists such as John Smart, Samuel Andrews, and Charles Shirreff. And some were painted in England by John Bogle and the Daniel Brothers. They were handed over to Thomas's older brother, Richard Chase (1754-1834),
[9]
and were eventually dispersed after the Christie's sale in 1970. The rarity of some of these artworks has led to surviving examples being held in museums and institutions worldwide. Kenwood House, for example, holds a miniature of Thomas and Ann's son, Richard George Chase (1794-1819), painted by the deaf Scottish artist Charles Shirreff (1750-1829) when he lived in Madras between 1797 and 1809.
[10]
The Cincinnati Art Museum holds a 1787 likeness of Mary Chase by John Bogle (1746-1803).
[11]
However, the portrait of Mrs Ann Chase followed a different path. Thomas Chase's recent financial success and wedding celebrations were perfectly good reasons to commission a pair of beautifully made miniatures from the most sought-after artist in town – just for himself and for his bride to enjoy as part of the décor of their exotic Indian residence. The miniatures stayed in Madras, where they were copied probably around 1799. Only the copies were sent home.
Thomas and Ann's life in Madras was a happy and affluent one. We could partially reconstruct their story through newspaper handbills and dispatches recorded by the Indian Office. Thomas began his career as a civil servant in the East India Company in 1780.
[12]
At the time of his marriage, he was working as an agent for Gilbert Ross, and carrying out official, if varied, duties as 'Clerk of Justice, Clerk to the Commissioner of Stores, Coroner and French Translator'. His Civil Service salary amounted to circa £550 per annum, a steady income that he increased significantly through private trade. He was evidently aware of the opportunities that existed in Southern India
[13]
and in 1790 was appointed to the lucrative role of Secretary to the Board of Trade. Thomas then co-founded with a merchant named Thomas Parry a profitable business selling goods and providing banking services. It was initially called
Chase & Parry
and, as the business grew, other members of the Chase family joined.
[14]
By the turn of the century it had become one of the most powerful commercial firms in Southern India.
Meanwhile, Ann was busy raising her large family of three boys and three girls.
[15]
Unlike her sisters-in-law, Ann did not seem to take part in the Fort's philanthropic activities.
[16]
Suddenly, however, in 1799 something appeared to have happened and we found Thomas listed as a civil servant 'without employ'.
[17]
At this point the Chase family decided to return home and in January 1800 they were listed as passengers on the
Walpole
bound for England.
[18]
Thomas remained in England for around one year before returning to Madras in 1801 to concentrate on his business ventures.
[19]
With the support of his partners, and the ownership of a small fleet of merchant vessels, he traded precious Eastern goods,
[20]
whilst insuring, lending, shipping, and maintaining a role within the East India Company.
[21]
Ann settled in Marylebone, at '15 Upper Wimpole Street', where she probably stayed until her husband's death.
[22]
Thomas died unexpectedly at the beginning of 1808 at Vizagapatam, possibly during one of his trips to Bengal.
[23]
A newspaper reported that Ann left London for Bengal in April 1809,
[24]
no doubt to visit her husband's tomb and collect his papers and belongings. It is not clear how long Ann stayed in Bengal for, but at least three of her children later decided to live there.
[25]
Ann lived out her later years in London and was living at 37 Beaumont Street in Marylebone when she died on 19th July 1837 aged 77.
[26]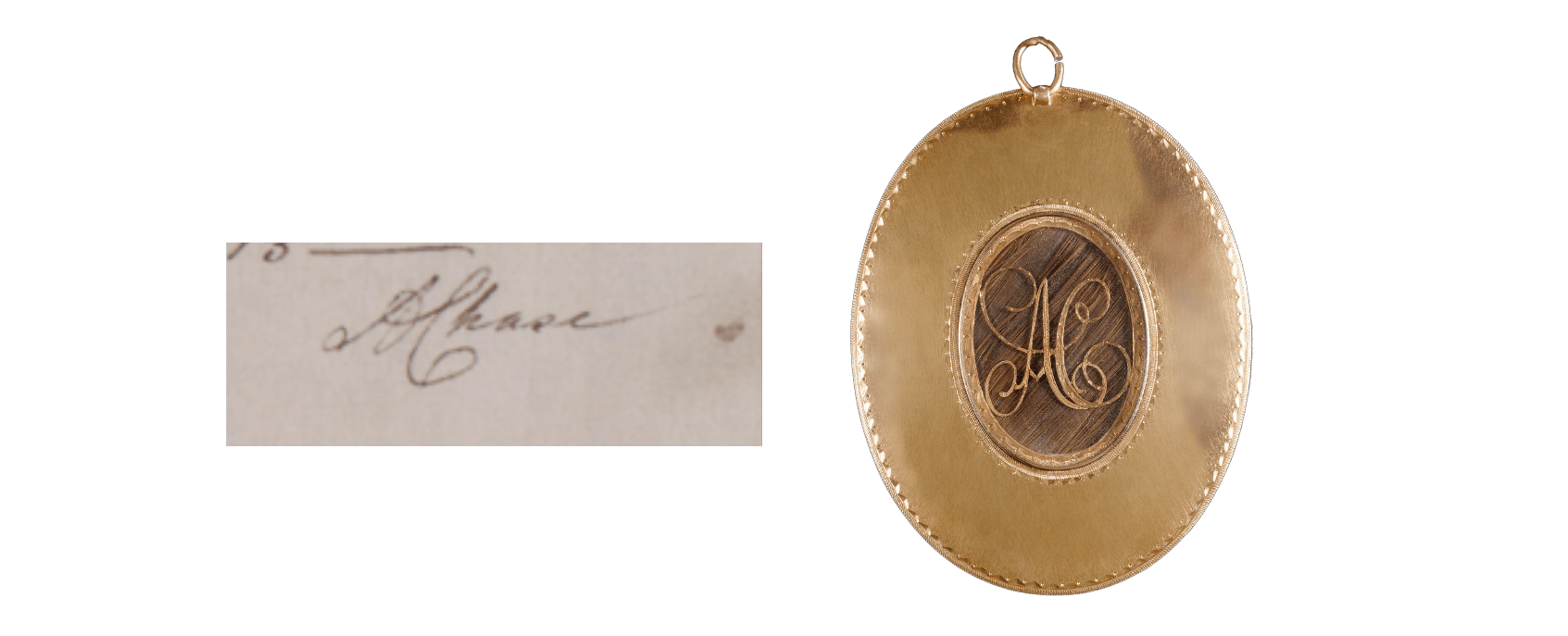 We presume that Ann's miniature travelled to London with the family in 1800 and was kept in Beaumont Street, where Rebecca Chase, Thomas and Ann's daughter, remained until 1871 with a cook, a footman, and a domestic servant.
[28]
Towards the end of her life, Rebecca moved – presumably with her art collection – to Hurst Wood Lodge in Tunbridge Wells, near her cousin Eliza R. Bingham.
[29]
After Rebecca died, Eliza moved to Hurst Wood Lodge, where she later left a small fortune and no heirs. Her assets were eventually distributed
[30]
and we believe this is when John Smart's portrait of Mrs Ann Chase may have travelled to Scotland.
[31]
It ended up in the collection of the famous Scottish newsagent and wholesale publisher John Ross Menzies (1852-1935) of North Berwick, from whom it was sold at Sotheby's London in 1935.
[32]
[1] FOSKETT, D., John Smart: The Man and His Miniatures, Cory, Adams & Mackay, London, 1964, p. 64.
[2] Vestiges of Old Madras,III, p. 322.
[3] Heinz Archive, 'Chase to Chatterj' sitter box.
[4] Sotheby's London, English and Continental Silver, Portrait Miniatures and Objects of Vertu, 9February 1989, lot 328.
[5] Christie's London, Catalogue of Miniatures, Gold Boxes and Objects of Vertu, 17 February 1970, lot 38, p. 12 (Corrigenda and Addenda).
[6] One sister was called Sarah and was painted by Smart in 1777. See Christie's London, Catalogue of Miniatures, Gold Boxes and Objects of Vertu, 17 February 1970, lot 37 as 'Miss Sarah Chase, later Mrs Tennant'.
[7] BL IOR 79 N/2/2/49, Madras Marriages, vol. C (1698-1948).
[8] See my Chase tree on Ancestry: https://www.ancestry.co.uk/family-tree/tree/193412958/family?cfpid=242517866727
[9] Bonham's, Fine Portrait Miniatures, 24th June 2004, lot 129: https://www.bonhams.com/auctions/11052/lot/129/
[10] Christie's London, Catalogue of Miniatures, Gold Boxes and Objects of Vertu, 17 February 1970, lot 40. See Miniatures at Kenwood: The Draper Gift, English Heritage, 1997, no. 46:
https://artsandculture.google.com/asset/richard-chase-charles-shirreff/6gG46Q61NnVipw
Richard George was not Richard Chase's son, as stated incorrectly in https://www.bonhams.com/auctions/11052/lot/129/. For Richard George Chase's birth and death certificates, see BL IOR 65 N/2/2/227 Madras Baptisms, vol. C (1698-1948), and Madras Burials in St Mary's Cemetery 1749-1800, p. 25.
[11] Christie's London, Catalogue of Miniatures, Gold Boxes and Objects of Vertu, 17 February 1970, lot 35. See ARONSON, J., and WISEMAN, M. E., Perfect Likeness. European and American Portrait Miniatures from the Cincinnati Art Museum, Yale University, 2006, p. 103.
[12] In the East India Company's List of Civil Servants at the Fort St. George Establishment, Thomas Chase was first listed as a 'Factor', then as 'Assistant to the Secretary - to the Select Committee', later as a 'junior merchant.' See BL IOR A List of the Company's Civil Servants, At Their Settlements in the East-Indies, 1785, p. 43; 1790, p. 38. From Merriam-Webster, a factor is 'one that lends money to producers and dealers (as on the security of accounts receivable)'.
[13] In 1788, for instance, Thomas tried to establish a 'Printing Office' with the aim of producing a new, insightful newspaper for the British community. His plan was to include material in Persian and other Asian languages, such as 'Dr Henry Harris's Hindustani Dictionary'. However, this proposal was rejected by the Government as the newspaper would be in competition with the existing Madras-based licensed printer. The attempt to promote interest in and understanding of native culture and social systems also went against the Anglo-centric Cornwallis administrative system. See Vestiges of Old Madras, vol III, pp. 361-62.
[14] The firm changed its name to Chase, Parry & Co. when Thomas's brother-in-law, ex-naval officer Henry Sewell, joined the partnership. By 1796 the firm had changed its name to Chase, Sewell, & Chase with the addition of Thomas's brother, Richard Chase. In 1800, it became Chase, Sewell & Chinnery with the addition of John Chinnery, brother of the artist George Chinnery. After the death of Sewell in 1801, other partners joined Chase, Chinnery, and Macdouall and its power and influence grew. They owned at least four Madras-based merchant vessels: the Marquess of Wellesley, the Harrington, the Matilda, and the Gilwell. Thanks to these ships, they could buy cotton from Bengal, export spirits to Port Jackson, and take part in the salt and spice trades. See HODGSON, G.H., Thomas Parry Free Merchant Madras 1768-1824, Higginbothams, Madras, 1938, pp. 33, 38-39, and 46; CONNER, George Chinnery 1774-1852: Artist of India and the China Coast, p. 57; BL IOR/E/4/902, Despatches to Madras, p. 604; BL IOR/E/4/896, Despatches to Madras, p. 88.
[15] These were Mary Ann (b. 1789); Morgan Charles (b. 1790); Thomas Curtis (b. 1791); Laura Maria (b. 1792); Richard George (b. 1794); Rebecca (b. 1798). See BL IOR 65 N/2/2/57; IOR 65N/2/2/126; IOR 65 N/2/2/140; IOR 65 N/2/2/187; IOR 65 N/2/2/324, in Madras Baptisms, vol. C (1698-1948).
[16] Thomas's sister, Miss Rebecca Chase (1763-1824), married Thomas's partner, Henry Sewell, in 1790 (Vestiges of Old Madras,III, p. 420). Thomas's brother, officer and merchant Richard Chase Jr (1754-1834), married Miss Elizabeth Neale in 1798 (BL IOR 79 N/2/2/323 Madras Marriages, vol. C). Sewell was a keen philanthropist who appears in various committees supporting the local Male Asylum, the Native Poor Fund, and the Native Hospital (The Madras Almanac for the Year of Our Lord 1800, p. 120). By 1793 Richard Chase and Sewell were also living on the same estate at Egmore, Madras. By the end of 1790s, they were both sitting as Aldermen for four months of the year and performing duties as Justices of the Peace during the rest of the year. In 1800 Richard Chase was appointed Mayor of Madras (Vestiges of Old Madras,III, pp. 420, 476-77, 554). Together with the wives of other prominent men, Mrs Chase and Mrs Sewell were both directresses of the Female Asylum (The Madras Register (1799), p. 145).
[17] The Madras Register (1799), p. 31.
[18] On 23rd January 1800, in the East-India Arrivals column, the Caledonian Mercury announced that "Mr and Mrs Chase and Family" were on the Walpole, bound for England.
[19] The Madras Almanac For The Year of Our Lord 1800, p. 64.
[20] Sometimes trade took Thomas further East. His name is recorded in the log of the Wexford, which sailed from Madras to China in September 1803 (http://www.heicshipslogs.co.uk./logs/h029.htm). At other times he was involved in selling Madeira wines or in the auction of oriental pearls (See Madras Courier, 11 August 1802; and25 June 1806).
[21] By 1803 Thomas was appointed 'Senior Merchant' and was running an insurance office called New Madras Insurance Company. Later he was working as 'Paymaster' at Vizag (on the coast between Madras and Bengal).
See An East-India Register and Directory, for 1803, vol. ii, pp. 130 and 211; British India Office Ecclesiastical Returns - Deaths & Burials N-2-3: https://search.findmypast.co.uk/record?id=BL%2FBIND%2F005137383%2F00551&parentid=BL%2FBIND%2FD%2F200608
[22] https://discovery.nationalarchives.gov.uk/details/r/20e41428-99d5-437d-8351-b0a07e2a85cd
[23] Madras Civil Servants, pp. 48-49.
[24] British Press, 25 April 1809.
[25] For instance, two of Ann's daughters, Mary Ann and Laura Maria married in Bengal (respectively in 1810 and 1815), whilst her son, Richard George, applied for a post as 'writer' at Fort William. https://www.ancestry.co.uk/discoveryuicontent/view/109843:9901?ssrc=pt&tid=193412958&pid=242517874648; https://www.ancestry.co.uk/imageviewer/collections/61468/images/47593_83024005549_1487-00535?pId=450207; https://search.findmypast.co.uk/record?id=BL%2FBIND%2FJ-1-28%2F00024&parentid=BL%2FBIND%2F2334
[26] London Courier and Evening Gazette, 21 July 1837.
[27] Certificates for Covenanted Civil Servants in Writers' Petitions and Committee of College, J-1-28: https://search.findmypast.co.uk/record?id=BL%2FBIND%2FJ-1-28%2F00024&parentid=BL%2FBIND%2F2334
[28] https://www.ancestry.co.uk/family-tree/person/tree/193412958/person/242517879669/facts
[29] Eliza Rebecca Chase (1821-1901) was the daughter of Richard Chase, Thomas's brother. Eliza R. lived with Rebecca in Beaumont Street for a period before getting married. Eliza R. first married the Rev. Edward Thomas Clarke and moved to Brighton. In 1871 she married John Elliott Bingham and moved to Tunbridge Wells.
[30] The London Gazette, 2 July 1901, p. 4432.
[31] It is possible the miniature was inherited by Thomas and Ann's great-grandson, Alexander Edmund Coutts Trotter (1846-1913) of Milton Bridge, Midlothian. See https://www.ancestry.co.uk/family-tree/tree/193412958/family?cfpid=242517874648&fpid=242519292055
[32] SOTHEBY'S, Catalogue of Old English Porcelain Figures of the Bow, Chelsea, Bristol & Derby factories; Objects of Vertu, comprising […] Fine Signed Miniatures by John Smart, The Property of the Late J. R. Menzies, Esq., 28 June 1935, pp. 21-23.