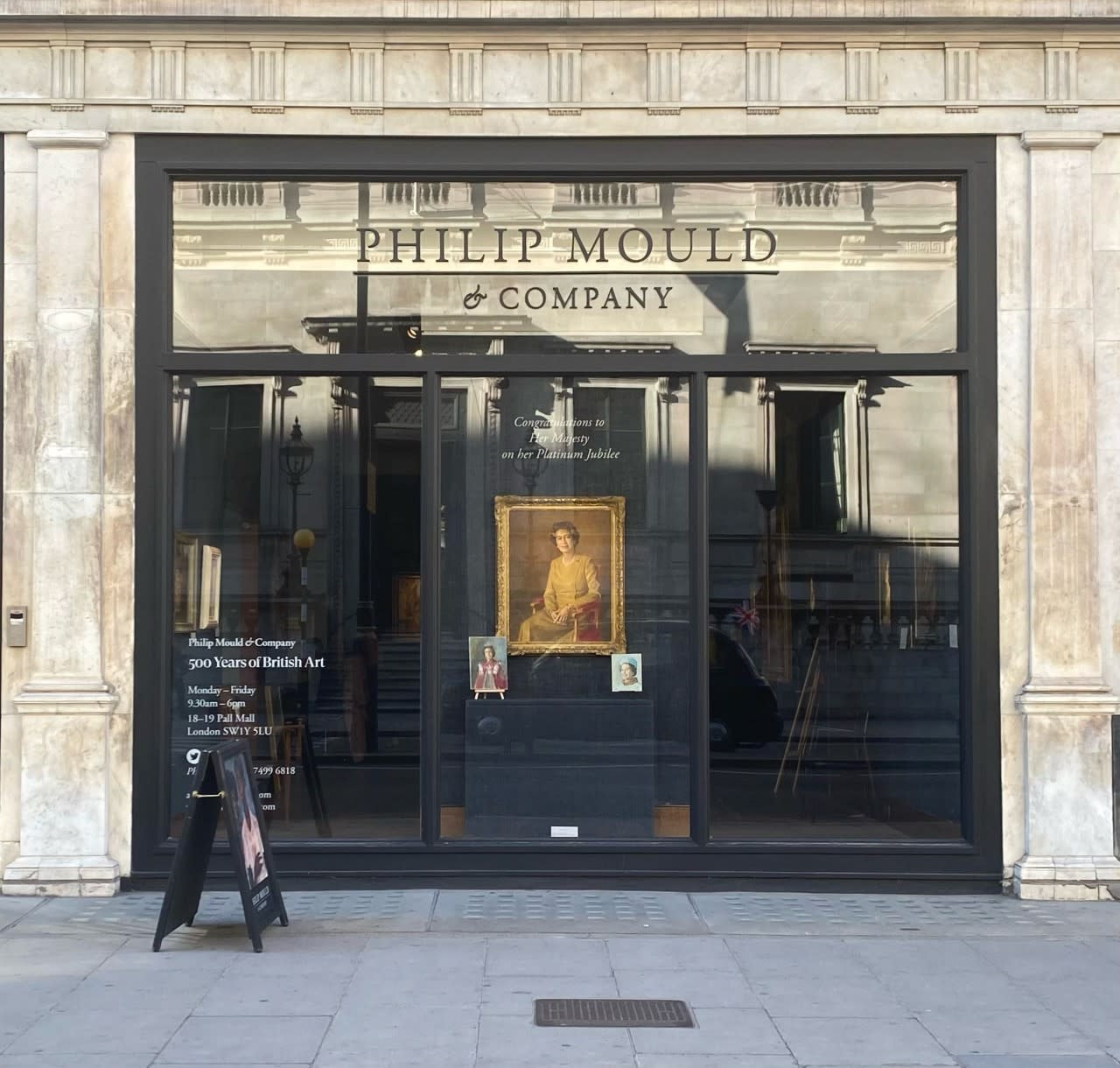 Platinum Jubilee Portraits
Congratulations to Her Majesty The Queen on her Platinum Jubilee
Congratulations to Her Majesty Queen Elizabeth II
on her Platinum Jubilee
Capturing the humanity of Her Majesty Queen Elizabeth II, these three portraits by Michael Noakes demonstrate the incomparable confidence that the Royal Family found in Noakes' painterly abilities. Whilst most artists who are offered a life sitting with the Queen have the privilege of sitting with her for the standard hour and a half sitting, throughout his career Noakes spent more than twenty hours in total with Her Majesty. During this time, an intimate relationship formed between artist and sitter, placing Noakes in a position whereby he could, more truthfully than most, exhume the complex character of his sitter.
Noakes' long association with the Royal Family began in 1972 when he was commissioned by the City of London Corporation to paint seven members of the Royal Family and the Lord and Lady Mayoress of London, in six different locations. Commissioned to celebrate the Silver Wedding anniversary of the Queen and Prince Philip, the group portrait now hangs in London's Guildhall Art Gallery. This small, smiling portrait is a study for the aforementioned portrait and thus marks the first of many of Noakes' portraits of The Queen.
The larger oil portrait reveals Her Majesty in her role as stateswoman. Graciously addressing the viewer, she extends her consideration and regard toward her people. The final oil study depicts The Queen in three-quarter length in Robes of the British Empire. Noakes has captured the suggestion of Her Majesty's smile which offers a glimpse of informality amongst the otherwise stately presentation.
Determination was a hallmark of Noakes' work, and his studious work ethic was noticed by the Royal Family. During one of his many sittings with the Queen, Noakes recalled growing increasingly irritated with the number of disruptions and interruptions. Finally exasperated beyond a point of containment, a knock at the door prompted Noakes to cry out "What do you want?". He was answered cautiously by The Prince of Wales, inquiring if it might be possible to speak with the Queen. Noakes was grateful that, in this instance, he may have been accorded more lenience than most others would have been granted…
Capturing the spirit of both the private and public positions held by Queen Elizabeth, Noakes' portraits communicate the kindness and compassion of our Monarch.