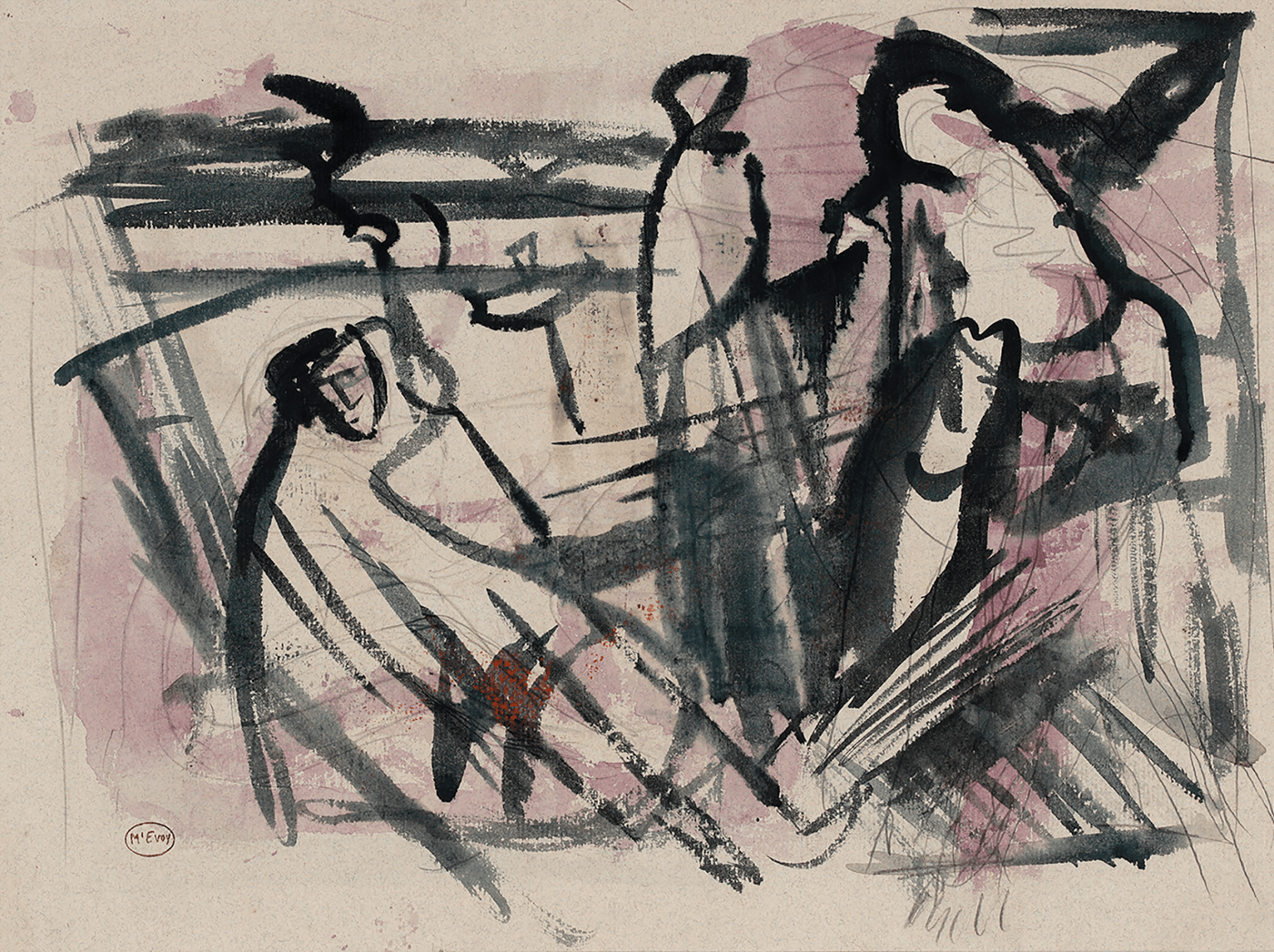 New Collectors
April Update | Modern British
Philip Mould & Company are committed to helping perceptive new collectors who maybe looking to start a collection, or expand an existing collection into new realms and genres. This considered collection combines a curated selection of Portrait Miniatures by top tier miniaturists with Modern British works on paper by innovative Modern Masters.
This month Head of Research, Lawrence Hendra, shares his new additions to the New Collectors collection.
Ambrose McEvoy:
Working in Watercolour
Although Ambrose McEvoy is nowadays best known as a painter of swish society portraits in oils, he was equally interested in watercolour and some of his most successful works were painted in this medium.
Working in watercolour on paper required minimal preparation and was a much cheaper alternative to oils on canvas. As a result, it allowed a greater freedom of artistic expression and experimentation. Like many society portrait painters, McEvoy sometimes struggled to keep up with the demand for his work; during the mid-1920s he was working on several portraits simultaneously each day. We know from his letters home to his wife Mary that he tired of the relentless pressures of oil portraits and he often said that he would prefer to paint nothing but watercolours.
McEvoy's watercolours are characterised by their lyricism and confidence. Take, for example, Study of Figures c. 1910-15 in which a series of briskly applied lines insect across the page revealing a semi-abstract composition of three figures with an open landscape beyond. By comparison, his oil painting Landscape at Aldbourne (Birmingham Museums Trust) painted in 1915, is altogether more restrained with flashes of brilliance obscured by a more cautious, representational approach to the subject.
A more finished example of McEvoy's work in watercolour is Helen painted in 1923. This work was built up in layers; first the basic design was sketched out in pencil, then the monochrome wash was applied before a final, brisk splash of blue. This final flourish of colour is typical of McEvoy's work in both watercolour and oil and reflects his preference for lighting his subject with coloured electric bulbs.
During McEvoy's lifetime his watercolours were offered to his clients as a more affordable alternative to his oil paintings. The same is true today and it is still possible to acquire excellent examples of his work in this medium at modest levels. See our New Collectors page for more details on available works.