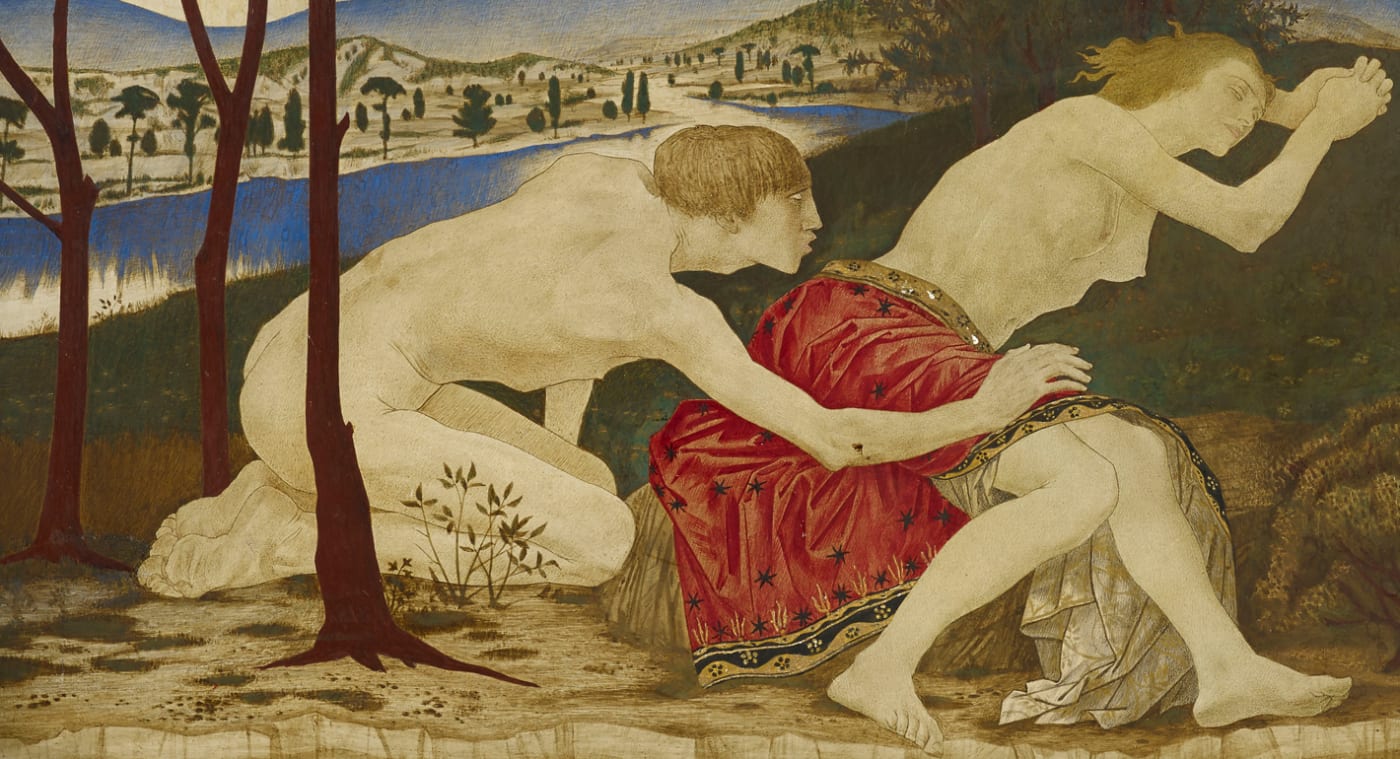 Art in Isolation
Series 2 | Episode 6: Love in Paint, Gerald Leslie Brockhurst
Gerald Leslie Brockhurst was one of the most successful and fashionable British portrait painters of the early twentieth century. He was born in Birmingham, the son of a coal merchant and in 1901, at the age of 12, Brockhurst entered the Birmingham School of Art before enrolling in the Royal Academy Schools in 1907. A travelling scholarship enabled him to study Old Masters in France and Italy including the work of Leonardo da Vinci and Piero della Francesco whose stylistic and compositional ideas had a lasting effect on the artist's career.
In 1914 Brockhurst married Anais, a Frenchwoman whom he presumably met whilst exploring the region, and the following year they moved to Ireland where they remained until 1919. He used his wife as a model for many of his early works including Portrait of Anais, the artist's first wife, 1915-1920, with Philip Mould Gallery.Whilst in Ireland the couple befriended established painters such as Augustus John, whose influence can be seen in the rugged handling of paint in 'Ireland, 1916' [Hunterian Art Gallery, University of Glasgow]. On Brockhurst's return to England in 1919, he held his first major exhibition at the Chenil Gallery in London, in which his work was described as giving 'an edge to forms which vision does not experience'[1]. This 'edge' can be seen in Brockhurst's most accomplished works.
During the 1920s Brockhurst began to champion the field of etching, paving the way for his later portraits which would betray an intelligence for enhanced chiaroscuro, which only a master etcher could attain. In particular his work Adolescence [The Fine Arts Museum, San Francisco], an etching of a nude woman sitting in front of a mirror, is considered one of the greatest examples of printmaking of the twentieth century – although its subject was rather controversial at the time. By 1930 Brockhurst had returned to painting and his career was flourishing with notable commissions from the notorious British socialite Margaret Campbell, Duchess of Argyll (1912-1993) [Tate Britain] and Wallis Simpson, Duchess of Windsor (1896-1986) [National Portrait Gallery].
In 1937 he was elected an Academician of the Royal Academy. This was the same year that his marriage to Anais started to break down, following the scandalous publication of his relationship with Kathleen Woodward, [Dorinda with Philip Mould Gallery].[2] As his marriage ended and demand for his work overseas increased, Brockhurst decided to move to America in 1939 and one year later Anais filed for a divorce. It was in America that Brockhurst achieved greater fame and had a number of notable patrons such as the Mellon family and J.Paul Getty; he would remain in America for the rest of his career. Gerald Leslie Brockhurst died in his home with Dorette on 4th May 1978 in Franklin Lakes, New Jersey.